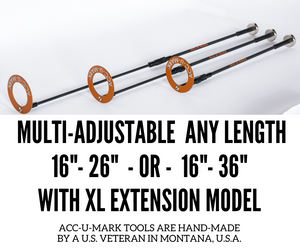 You asked for it – the new, adjustable ACC-U-MARK MULTI features a telescoping shaft with a machined aluminum compression fitting that allows infinite adjustment between 16″ and 26″.
NEW! SUPER-MULTI OPTION - Includes additional marking tip extension to cover lengths up to 36"      $69.95
Custom lengths – Measure your stove and cut custom lengths precisely sized for your firebox (cut 3″ shorter to ensure a 1-1/2″ airspace at either end for most efficient combustion).
Boiler lengths – While most people consider 24″ the longest length practical for easy handling, the Multi goes to 26″ for those who want more.
The Multi retains the super-strong 88# neodymium magnet and all other features of the Professional fixed length models. The aluminum marking washer is precisely weighted to dampen harmonic and sympathetic vibrations.
For those cutting large volumes of consistent lengths, see our line of ACC-U-MARK Pro Fixed Length models. Fast and simple, with no possibility of error on the jobsite – and a bit less money, too.