Dan Chase demonstrates Acc-U-Mark 16" Pro
$7.99 FLAT RATE S/H INSIDE THE U.S.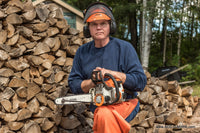 Who Buys Our Tools?
1. People who don't cut firewood every day.
2. People who hate those odd, too-long pieces that won't quite fit into the stove.
3. People who take pride in a neat, even wood pile.
4. People who cut various lengths for friends and family.
5. People who want to develop an eagle-eye for judging lengths.
6. People who cut for resale (neat, uniform pieces bring a better price).
7. Cutting crews whose ideas of 16" can vary by an inch or two.

Every ACC-U-MARK is hand made in Montana.
Pro quality - High tech materials
Carbon Fiber Shaft
6061 Aluminum Washer, bezel and compression fitting (adj. model)
80# Pull Neodymium Magnet
10-24 Stainless fasteners 
2.8 - 3.6 oz weight 
Hand assembled in Montana by a retired Veteran

Pro quality - High tech materials
Carbon Fiber Shaft
6061 Aluminum Washer, bezel and compression fitting (adj. model)
80# Pull Neodymium Magnet
10-24 Stainless fasteners
2.8 - 3.6 oz weight
Hand assembled in Montana by a retired Veteran
Testimonials
I bought it over the others because I like the idea of handmade tools and the entrepreneurial spirit of your small company. 

Doug Downs
My husband has already used it and loves it!  Thank you.

Martha McIntosh
Absolutely love the 18" keeps it all uniform and perfect for the wood stove.

Evan VandenLangenberg
I was just able to use my new 16" Acc-U-Mark today for the first time and I just want to say I love it. Thank you for making such a great product.

Ricky Conley
This is an AWESOME accessory. I tried the one that squirts paint, yours is light years ahead of that one..  I use it every time I'm cutting firewood, which is @ the rate of 20 cords per year..

Dan Tabler
...it only took one time for my wife to have problems putting a log that was cut just a little too long, that she said "GET THIS Device, & don't get a cheap one!!!  

Jay Cash
Quick processing and a great quality product!!! Was nice doing business with you, Dan!

Mark Ferrell
I got one. I really like it. Way better than tape and spray paint.

Matt Thompson
My 18" Acc-U-Mark is so light I don't even feel it.


Mark Krotzer