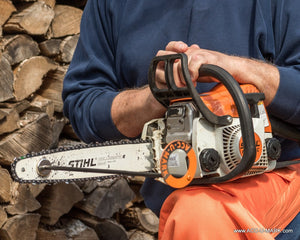 Description
Why do you want one?
More firewood from your logs – no waste
More heat from your stove – perfect fit
Easier stacking and storage
Take pride in your wood pile
True custom cutting raises the value of firewood
Not everyone is as serious about firewood as we are. ACC-U-MARK gets you to within 1/4″ accuracy in one quick pass! (The marks are dead-on, but it's hard to cut with more than 1/4″ accuracy using a chainsaw!)
The ACC-U-MARK is made with the best components available to keep it stable and secure on the saw bar. The 16″ model is a featherweight 2.4 ounces and an 88 lb. magnet keeps it where you put it.
Light weight also means the handling of the saw is not affected. Both ends are secured with machine threads — not self-tapping screws. You might consider it over-engineered if it weren't hanging off the end of a running chainsaw. Safety first. Seriously.
There are lots of ways to mark firewood.
ACC-U-MARK is simply the best.
Order now and we'll get your Acc-U-Mark out in the mail right away!