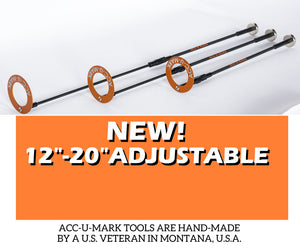 Stove Lengths from 12" to 20".  Customers ordering custom length units for small stoves began asking why we didn't cover their 12" and 14" needs with a shorter adjustable, so here it is! The only difference is the shorter carbon fiber adjustable shaft.
Custom lengths – Measure your stove and cut custom lengths precisely sized for your firebox (cut 3″ shorter to ensure a 1-1/2″ airspace at either end for most efficient combustion).
The 12"-20" Multi retains the super-strong 88# neodymium magnet and all other features of the Professional fixed length models. The aluminum marking washer is precisely weighted to dampen harmonic and sympathetic vibrations.

For those cutting large volumes of consistent lengths, see our line of ACC-U-MARK Pro Fixed Length models. Fast and simple, with no possibility of error on the jobsite – and a bit less money, too.